International Geospatial Briefing April 12th: 1. Indigenous Migrant Languages in LA; 2. New Underwater Unmanned Vehicle Hydrus; 3. Tree Pest and Disease Monitoring System in UK; 4. Largest Kelp Forest Made Available; 5. Dr Kemavo on GIS in land management and open-source software
We Are Here: Mapping Indigenous Migrant Languages
During the pandemic, an indigenous, women-led organization Comunidades Indígenas en Liderazgo, CIELO, started a project surveying nearly 10000 individuals in Los Angeles from over 30 Indigenous communities throughout Mexico and Central America. The project created a story map showing the indigenous language diversity in the streets of LA where more than 15 indigenous languages are spoken. These communities are often undercounted and underrepresented in the U.S. Census where they were grouped under the label of "Hispanic" and "Latino." The 'We Are Here' map of Indigenous diaspora in Los Angeles is featured in the Mixpantli: Contemporary Echoes exhibit at the Los Angeles County Museum of Art.
https://www.latinousa.org/2022/03/29/indigenouslanguages/
"All-in-one surveying crew ": Advanced Navigation Launches AUV Hydrus
Underwater exploration has always been expensive due to the requirement of vessels and personnel training. Advanced Navigation, an AI navigation and robotics systems manufacturer, has started producing a new autonomous underwater vehicle Hydrus to cope with the issue. Equipped with a 4K60 camera and powerful lighting, the small vessel Hydrus simplifies data collection. It is so lightweight that it can be deployed, controlled, and retrieved by a single person. With a range of 9km and 10000 feet depth-rating, the underwater drone could revolutionize underwater exploration.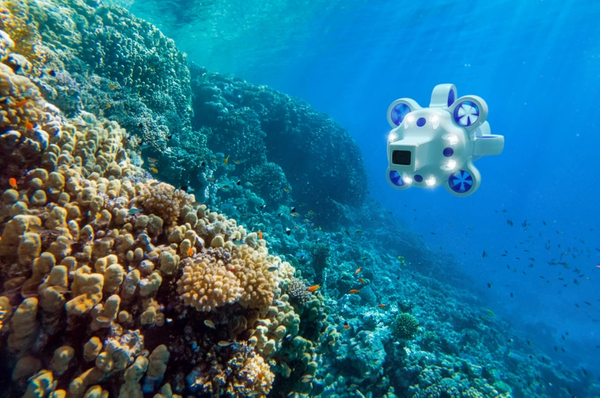 https://www.oedigital.com/news/495519-all-in-one-surveying-crew-advanced-navigation-launches-auv-hydrus
Tree Pest and Disease Monitoring System Uses Bluesky's UK Tree Map
Bluesky's National Tree Map acquires drone and satellite multispectral imagery over the three trial sites in Norfolk, East of England to provide biophysical properties (height and crown size) of individual trees three meters or taller. Fera Science then uses the data from the National Tree Map to monitor and provide warnings for pest or disease attacks.
https://www.directionsmag.com/pressrelease/11439
World's largest map of kelp forest canopies now available
Kelp forests provide an important refuge to thousands of species are dwindling under changing ocean conditions including marine heatwaves linked to climate change. Several non-profit and academic organizations partnered to map kelp forest density using satellite imagery and made it available online. The large spatial coverage of Kelpwatch.org from Baja California, Mexico to Oregon-Washington border paired with decades of historical data allow users to examine how changes to the kelp forests.
https://phys.org/news/2022-04-world-largest-kelp-forest-canopies.html
Supporting biosphere reserves management by mapping forests with open-source tools
In a recent interview with UNESCO, Dr. Anoumou Kemavo, an international project manager at Office national des forêts – International (ONFI) in France and a trainer at the School of Geomatics and Territory in Abidjan, Ivory Coast, unveiled his vision of providing free training on open-source mapping tools and participatory workshops for forestry projects. The expensive private license for GIS software should not be a barrier, so Dr. Kemavo has developed free courses for open-source software on different platforms. He also talked about how GIS has assisted in the decision-making of conservation and land management, where the availability of satellite imagery and GIS software have transformed the industry.
https://www.unesco.org/en/articles/supporting-biosphere-reserves-management-mapping-forests-open-source-tools